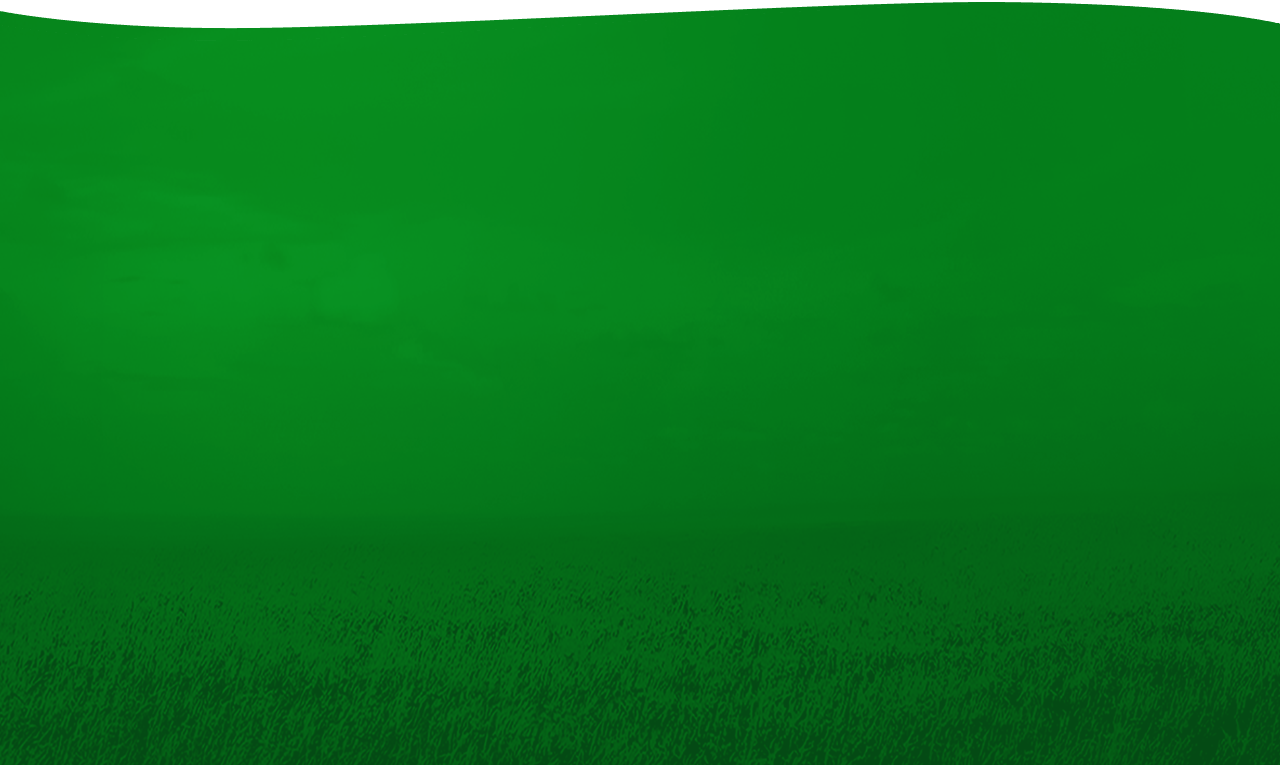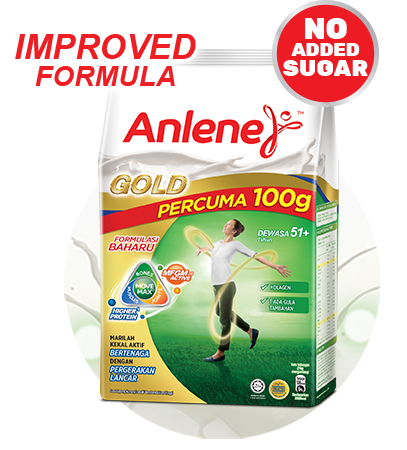 Age is not a barrier to do more in life whether is travelling, exercise and spending quality time with family and friends. Now you can stay active and energetic with smooth movement today! Anlene Gold's improved formulation contains MFGM ActiveTM, higher protein1 and 50% More Nutrient*.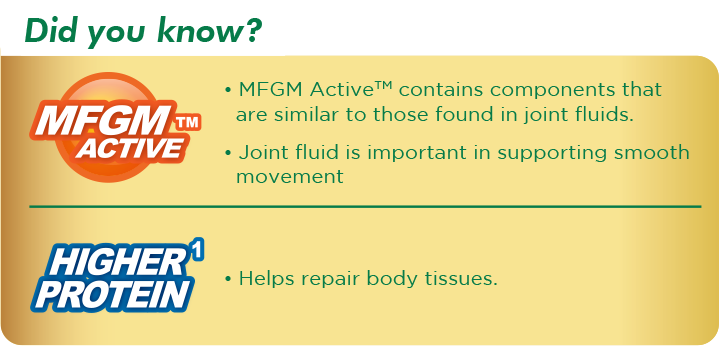 Purchase Anlene Gold Milk Powder now!

Better value. Packed with nutrients.8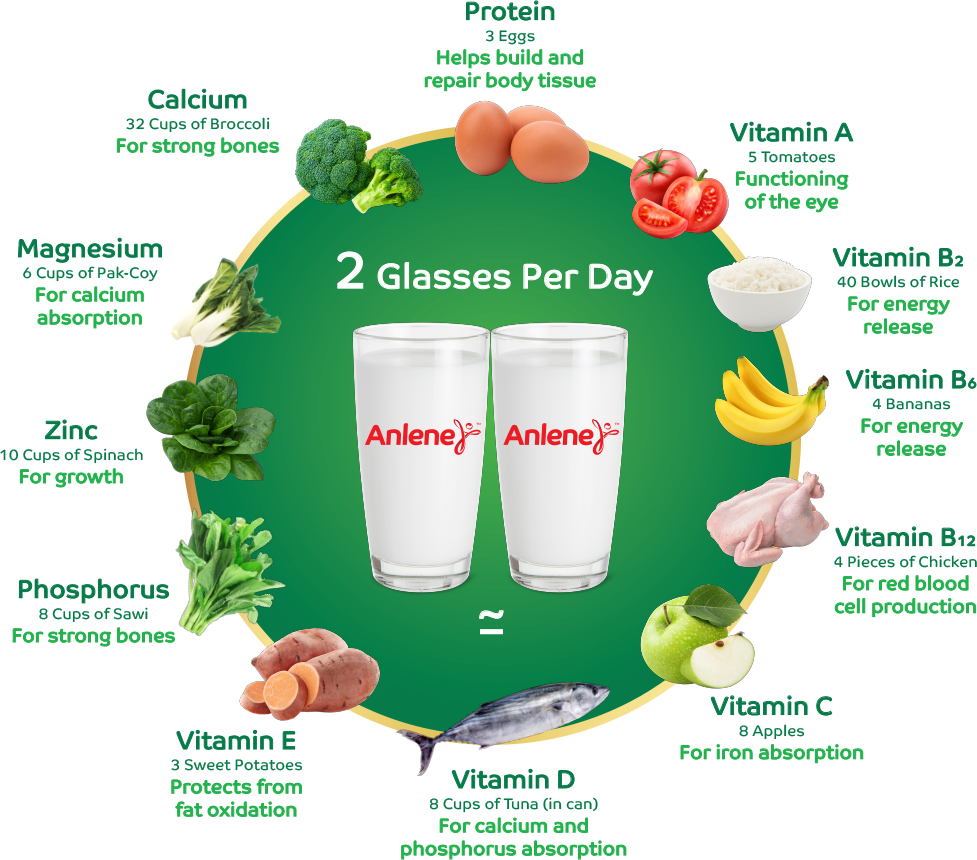 Food comparison is for indicative purposes only
Stay active and energetic with smooth movement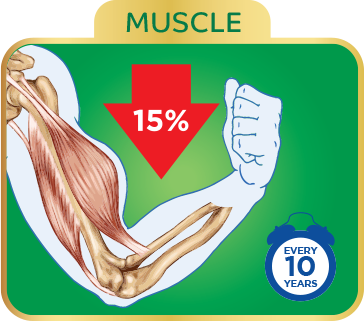 Loss of muscle strength of about 15% every 10 years4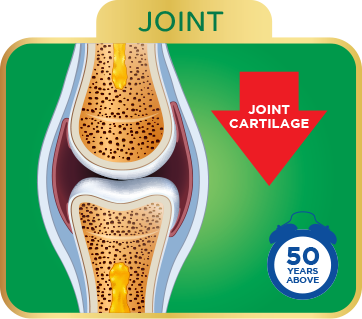 Significant degeneration of joint cartilage after 50 years old5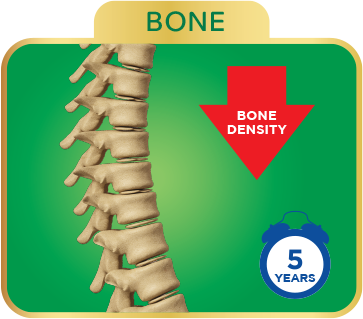 Rapid bone loss in the first 5 years after menopause6


Eating a balanced diet and doing regular exercise help support your active lifestyle. Your diet may include: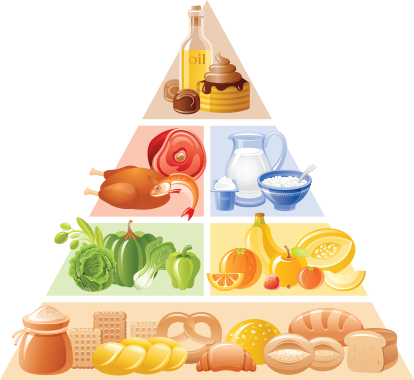 Protein
Build and repair body tissues
Calcium
To help support strong bones
Vitamin D
Helps body absorb calcium
Food with Milk Fat Globule Membrane (MFGM)
May help to improve agility when paired with frequent exercises7
1 Compared to previous formulation.
2 Data merujuk kepada golongan yang berumur 60 dan ke atas. Ahmad NA et al. Prevalence and determinants of disability among adults in Malaysia: results form the National Health and Morbidity Survey (NHMS) 2015. BMC Public Health, 2017, 17: 756. DOI 10.1186/s12889-017-4793-7  
3 Hortobagyi T. et al. Old adults perform activities of daily living near their maximal capabilities. Journal of Gerontology: Medical Sciences, 2003. 5 (58A): 453-460.
4 Deschenes MR. Effects of aging on muscle fibre type and size. Sports Med 2004;34:809-824
5 Chung, Aging in Human Joint: Articular cartilage. 1966. Journal of the National Medical Association. 58 (2): 87 – 95
6 Rogers et al. Biochemical Markers as Predictors of Rates of Bone Loss after Menopause.2000. Journal of Bone & Mineral Research. 15 (7): 1398 – 1404
7 Ota et al. Dietary milk fat globule membrane with semiweekly light exercise improves choice stepping reaction time in healthy Japanese elderly subjects: A randomised double blind, placebo-controlled trial. Journal of Aging Research & Clinical Practise. 2015. 1- 3.
8 Food comparison is done by reference "Tee et al, Nutrient composition of Malaysia Foods, 1997"
*Anlene milk has at least 50% more minerals (calcium, magnesium & zinc) and vitamins (vitamin B6 & vitamin D) than regular milk which has added vitamin D in every 100g powder. Reference USDA National Nutrient Database for Standard Reference.